Capturing the invisible. Francesco Malacarne and the birth of scientific photography
MAG Riva del Garda, Museo
Until Sunday 8 November 2020
Curated by Anna Bedon, Matteo Rapanà
Inaugurazione venerdì 3 luglio ore 19.00. Prenotazione consigliata 0464573869, info@museoaltogarda.it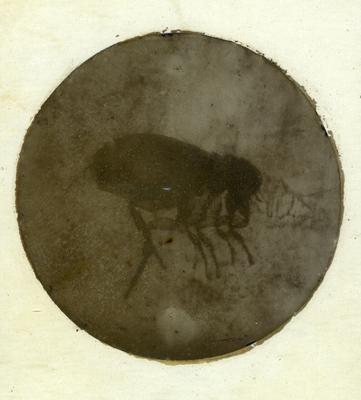 Francesco Malacarne, Pulce stampa su carta salata, dimensioni del foglio mm 117 x 97, diametro della foto mm 77. Venezia, Fondazione Musei Civici di Venezia, Biblioteca del Museo di Storia Naturale, Nardo 43/8.
Curated by Anna Bedon, Matteo Rapanà.
In collaboration with Soprintendenza per i Beni Culturali della Provincia Autonoma di Trento.

Born in Riva del Garda in 1779, Francesco Malacarne was an eclectic man of science, whose studies ranged from architecture to topography, and from drawing to photography.

He embarked on a brilliant career as an engineer that soon led him to work both in Verona and in Trento, where he distinguished himself in some major projects, including the drafting of the Trento City Plan and the realisation of the new cadastre for Riva del Garda in 1810.
Back in Verona, he continued working with great success, coordinating numerous and important architectural and water management projects.
He moved to Venice in 1855 and died in the parish of San Simeone after a long illness.

Malacarne experimented with innovative techniques for the reproduction of prints and drawings. Among his most interesting inventions is "papyrography", which he developed to duplicate images using a system that remains unknown to this day.
In Riva del Garda he met the Garda-born painter Giuseppe Craffonara (1790-1837), the most important neoclassical artist of the Trentino, who produced numerous copies on paper of famous works of art which were then used by Malacarne in his experiments with papyrography.
For his part, Malacarne financed Craffonara's nomination to the Accademia di San Luca in Rome as well as other important studies on Renaissance art that were essential for Craffonara's artistic development.

Not satisfied with his experiments in reproducing images through papyrography, Malacarne enthusiastically dedicated himself to the study of photographic techniques, with particular regard to the salted paper process.
His first studies focused on the improvement of the techniques necessary to obtain images under the microscope. The photographs of insects displayed in the exhibition were probably taken between 1841 and 1842. His micrograph of a mosquito is the first photographic image in the world of this insect, and testifies to the original and innovative nature of his research.
Later, Malacarne concentrated on the secrets of the universe, photographing an eclipse of the sun in 1851, but the phototypes produced have since been lost.

The exhibition ends with an important installation showing the most modern frontiers of scientific photography. Thanks to the availability of the Rochester Institute of Technology and the Johns Hopkins University School of Medicine, MAG hostes the extraordinary photographs of the photographic exhibition "Images from science 3" that underline the close link between technology, art and science.