Die Perle am Gardasee | Lake Garda Pictures in the Twenties
Curated by Layla Betti
MAG Riva del Garda, Museo
Until Sunday 6 November 2016
Opening: saturday 12th March 2016 6 pm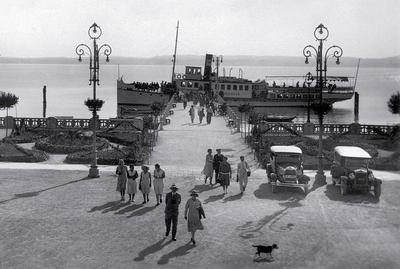 Lago di Garda - Sirmione - Arrivo del Piroscafo, 1925 ca, fotocartolina (particolare), edizioni. A. Pandini, Brescia, collezione U. Torboli
Comprising two sections, the film Riva - Die Perle am Gardasee shot by a German tourist and the exhibition itinerary of picture postcards, this exhibition helps to reconstruct the climate of Garda in the 1920s.

The images featured are a series of photo postcards by the A. Pandini company of G. De Lucia in Brescia. Active between 1920 and 1935, he produced and distributed various postcards of Garda and the area around Brescia. Famous photographers, such as the Riva-born Silvio Pozzini, of whom two works are on show (respectively No. 634, Lago di Garda – Rocca di Manerba and No. 167, Lago di Garda – Riva – Panorama), supplied works for the production of postcards by the Pandini company.
Several of these images have the typical air of landscape research as carried out by the 19th-century vedutisti, those paintings which early photography drew inspiration from. On the other hand, other images clearly break with this tradition, offering more contemporary views and at times even unusual: the tables of a restaurant, a docked steamboat letting passengers disembark, the little peninsula of land at Sirmione that juts into the lake, without a building to be seen on it. The images cover a timespan which frames the 1920s: from the previous era to the architecture of Giancarlo Maroni in a Riva del Garda which had to be rebuilt, right up to the major road infrastructure built in the early 1930s. A landscape – and a townscape – emerges from these shots, characterised by the desire for renewal, the inklings of an economic and touristic recovery, by an infrastructural context undergoing rapid change. The images are accompanied by a number of quotations from tourist guides of the day.