Progetto: Der Blitz 2014
Michele Parisi. Dalla finestra entrava il mattino
MAG Riva del Garda, Museo
Until Sunday 2 November 2014
Curated by Denis Isaia, Federico Mazzonelli
Opening friday 11th april 2014 at 6 p.m.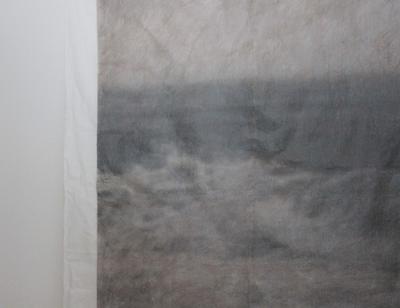 Michele Parisi, Dalla finestra entrava il mattino, particolare
In collaboration with Mart Museo di arte moderna e contemporanea di Trento e Rovereto.

The young artist from Riva del Garda will intervene with one of his works in the Picture Gallery of the Riva del Garda Museum, thereby triggering a dialogue with the historical works in the MAG collection through the language of contemporary arts.
"In Michele Parisi's research," the curator Federico Mazzonelli explains, "photography and pictorial practices give rise to an atlas of suspended images in which the space of reality – with all its shapes, outlines and volumes – is inserted into a 'horizontal' narrative dimension, as if subtracted from that of time, only to be immersed in the evanescent concreteness of light and pigments. The title of the intervention presented at the Riva del Garda Museum, Dalla finestra entrava il mattino, focuses on the very moment of the ideation and creation of an image, captured and painted using the light reflecting along the surface of a photographic plate. The technique used is in fact a photographic transposition which exploits photo-sensitive gelatine on tracing paper which the artist then re-elaborates by hand through the use of natural pigments. This is a delicate, alchemical kind of revelation, which – thanks the photographic medium – does not simply document the formal nature of the places surrounding us, but investigates and re-creates them as meaningful systems of signs, visions and imagery. The intervention will be featured in the section of the Museum given over to 18th/19th-century landscapes, which features many views over water, thus serving as the element around which the composition of many paintings is organised. By occupying one of the rooms in the permanent exhibition itinerary, the artist presents a series of works in which the waters of Lake Garda are transformed into images on the basis of various temporal scans, thereby turning them into landscapes at the very limit of abstraction, immersed in a sort of thick darkness, crossed and made mobile – as if life were 'breathed' into them – by a light which the painting pigment captures and progressively allows to filter towards the outside".