Achtung Banditen! The Resistance in the Lower Sarca Area. 1943-1945
Curated by Lorenzo Gardumi
MAG Riva del Garda, Museo
Until Sunday 5 November 2017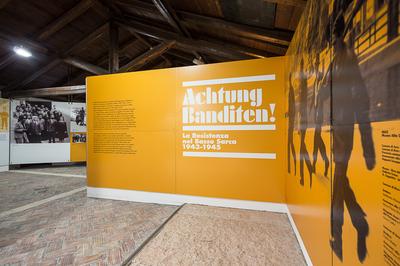 Vintage images taken in the streets of the towns and villages of the Lower Sarca area, while the tragic events of the war and the Resistance were taking place, as well as the ensuing period, depicting the material and moral damage, the reconstruction process and the collaborators out on trial. The exhibition also features historical documents, installations as well as the reconstruction of an office of the Geheime Staatspolizei, the infamous Gestapo, political police of the Third Reich, which in Riva del Garda was based in via Verdi.
The exhibition Achtung Banditen! La Resistenza del Basso Sarca, 1943-1945, housed in the history section of the Upper Garda Museum, is curated by Lorenzo Gardumi, researcher at the Historical Museum Foundation of the Trentino Region and writer, together with the artistic directors Micol Cossali and Valentina Miorandi.
The exhibition, which deals with a time span ranging from the end of the armed conflict to the early post-war period, is split into three parts, each addressing a different theme.
In the first, the Resistance is examined on a broader scale, i.e. from the point of view of the policies deployed by the Fascist dictatorship with regard to youth; here there is a special focus on the events that took place in the Lower Sarca area, where a number of young people followed a path of their own, passing from Fascism to Anti-Fascism to their direct involvement in the front line of the Resistance.
In the second part, the focus is on the eve of 28th June 1944, a crucial day within the context of that summer of '44: a decisive period in terms of the events that were to take place. In the light of the spread of the Resistance movement across the national territory, the German response was quick to follow. In Riva del Garda in particular, due to the work of informers, the Nazi reaction was one of prevention, in the attempt to nip any opposition to the occupying German troops in the bud.
The third part of the exhibition deals with the liberation of Riva del Garda following the arrival of the American troops and the major role played by the 'Eugenio Impera' Partisan Brigade. The exhibition itinerary comes to a close with the post-war fallout, the human, material and moral damage inflicted on the local population, including those caused by the sentences inflicted by impromptu judges on supposed Nazi collaborators.