Segantini and Arco
MAG Riva del Garda, Museo
Until Monday 6 January 2020
Le opere di Segantini "in trasferta" a Riva del Garda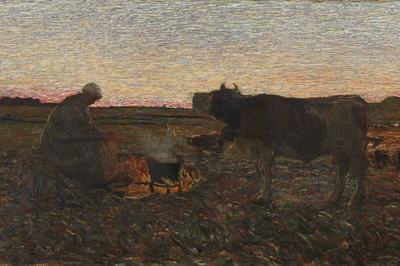 Giovanni Segantini, L'ora mesta, (1892), olio su tela, 45,5x83 cm, deposito collezione privata
The two rooms present a temporary selection of works by Giovanni Segantini – Arco (TN), 1858 - Maloja (CH), 1899 – drawn from the collections of the MAG, the Mart, the Municipality of Arco and some important private long-term loans.
They are part of the Segantini and Arco project, housed in the Galleria Civica G. Segantini, home of the MAG in Arco, and the result of a virtuous collaboration initiated in 2015 between MAG and Mart, concerning study and research activities dedicated to Giovanni Segantini and the Trentino area.
The Galleria Civica of Arco is temporarily closed for some structural work, but a nucleus of works is nevertheless on display here: his Autoritratto all'età di vent'anni (Self Portrait at the Age of Twenty), the only youthful portrait of the painter, is shown in dialogue with the celebratory effigy in plaster made by Troubetzkoy in 1896, while the large painting of the Campanaro (The Bell-ringer) contrasts with some still lifes executed in the early Milan years, before Segantini drew closer to the divisionist technique, which is instead evident in the canvas entitled L'ora mesta (The Sad Hour) of 1892, a gift from Segantini to the Trentino publisher Vittorio Zippel.
This small divisionist masterpiece has as its protagonist a fundamental theme in Segantini's production, namely a feeling for nature, which unites men and animals, and which is also present in other works exhibited here, from the small Paesaggio brianteo (Brianza Landscape, 1884-1885), with its similar mood and sensitivity, to Testa di vacca (Cow's Head, 1892), which is in all probability a study from life for the cow in L'ora mesta.