Progetto: Wars and Peace | 1918-2018
Paolo Ventura | Tales of War 2014-2018
MAG Riva del Garda, Museo
Until Sunday 6 January 2019
16.06-4.11.2018

Exhibition extended until 6 January 2019!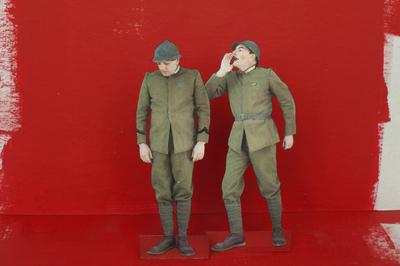 Paolo Ventura, Morte e Resurrezione 2 #10, 2018, fotografia, 42x60 cm (dettaglio)
Curated by Giovanna Calvenzi
In continuity with MAG's projects dedicated to the visions of the Alto Garda landscape by contemporary artists and photographers, for the centenary of the end of the First World War it has been decided to combine the exploration of this territory with memories and interpretations bound up closely with history, inviting photographer and artist Paolo Ventura to create a series of works inspired by the Great War and based in the area of what was the front line between Italy and the Austro-Hungarian Empire.
The unusual encounter between imagination, historical knowledge and artistic practice that characterises Paolo Ventura's creative evolution, has given rise to a personal narrative and at the same time an artist's interpretation of a landscape, that of the Trentino a hundred years ago and today too, strongly steeped in history and human memories.
This narrative comprises unpublished short tales told through images, collected under the title Morte e resurrezione 2 (Death and Resurrection 2), and will be unveiled on 15 June in the Racconti di guerra 2014-2018 (War Tales 2014-2018) exhibition along with the artist's latest projects on the subject, such as I Gemelli (The Twins) and Un reggimento che va sottoterra (A regiment going underground) of 2014, Morte e resurrezione 1 and Il pittore futurista (Death and Resurrection 1 and The Futurist painter) of 2015, and Ex Voto of 2017.
The exhibition, curated by the historian of photography and photo-editor Giovanna Calvenzi, will be inaugurated at 6 p.m. on Friday, 15 June 2018 at the Museo di Riva del Garda and will remain open until 4 November. At the same time as the exhibition, Paolo Ventura's artist's book will also be presented on 15 June; for the first time, the volume brings together all the "war tales" produced between 2014 and 2018, including the hitherto unpublished Garda work.
"For several years, Paolo Ventura has been experimenting with narrative techniques that combine self-portrait, photography, painting and modelling. With a maniacal care for costume, for details and decor. With a profound knowledge of every topic he addresses. Since 2014, he has devoted himself to the creation of short tales using images dedicated to the First World War. For Ventura, photography is both a pretext and an instrument capable of giving shape to his imagination, to his need to narrate, to his desire to retrace history of becoming a willing interpreter of its evolution. For the appointment with Nuovi Sguardi Gardesani — which picks up on a tradition of the MAG dating back to 1997 — Ventura has recovered earlier projects and staged himself as the dual protagonist of a new and unpublished tale: Morte e resurrezione 2 (Death and Resurrection 2)."
Giovanna Calvenzi, curator

The Paolo Ventura exhibition and publishing project is part of the Guerre e Pace. 1918-2018 (Wars and Peace. 1918-2018) project in 2018 that the MAG has dedicated to the centenary of the end of the First World War.