The time and the Instant | Photographic Landscapes of the Lake Garda 1870-2000
MAG Riva del Garda, Museo
Until Sunday 1 November 2015
Curated by Layla Betti, Claudia Gelmi, Sara Vicenzi
Opening: saturday 14th March 6 pm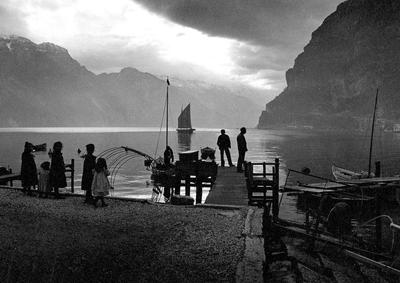 Alois Beer, Der Garda-See von Riva aus, 1903, fotografia / photography (particolare / detail)
A point of arrival for many tourists, a must on many Grand Tours, Lake Garda is a subject which has always attracted gazes of curiosity, capturing people's attention ever since the early days of photography.

Il tempo e l'istante (The time and the Instant) is a journey exploring the photographic landscapes of Garda over almost a century and a half of history, an excursus through its natural environment, local society, tourism and its transformation, rendered through images chosen from the vast heritage to be found in the photographic archive of the MAG. In this way, the instant, be it caught by a long-pondered shot or perhaps taken on the spur of the moment, contributes to narrating a time spanning more than a century of history, evoking those who have lived through those periods, in various moments of its passing.

Moving from room to room, visitors may witness the landscape in its slow yet relentless transformation. The initial selection is dedicated to Riva del Garda, to its views and those shots depicting it from vantage points which have remained largely unchanged to this day. There follows an interpretation of the Upper Garda area and its towns, with a number of significant images of the Ponale Road and various shots of the Lake itself, the photographic subject par excellence.

The great central hall is dedicated to those villages looking onto the Lake – Malcesine, Sirmione, Desenzano, Salò, Fasano, Gardone, Gargnano and Limone – and human activities. In fact, this journey also tells of the anthropic activities linked to Lake Garda, those of its communities. And so alongside the pictures taken by tourists or the photographs shot by illustrious travellers and photographers, as well as that majestic nature long described by writers, this journey also features images linked to work: washerwomen busy at their chores, captured forever in a shot that alludes to a skilful task handed down over the generations; fishermen going about their business on the lake waters, people waiting to board a boat. Then, more recently, water sports and children's summer camps tell of a not-too-distant past.

Among the protagonists of this era, it is the tourists who frame many of the most beautiful or powerful views, or who have their photos taken in poses that change just as the tastes of the times depicted in this exhibition do. Some of the images chosen to represent this photographic journey are the work of photographers famous in their day, such as Napoleone Segatini, Giorgio Sommer, Alois Beer, Augusto Baroni, G.B. Unterveger and Pietro Floriani. Furthermore, there is a particular focus on photographic publications of this era, such as those by Photoglob (Zurich), Wehrli A. Kilchberg G. (Zurich), Würthle & Spinnhirn (Saltsburg) and Stengel & Co. (Dresden).

The last part of the exhibition itinerary is dedicated to the period from the 1920s to the 1960s. Once again, the approach to photography changes hand in hand with the changes in traditions and the urban panorama.

In the flow of this time journey narrated through fleeting moments, visitors also encounter images that create a sort of short circuit. These are photographs taken from the SguardiGardesani collection, depicting these same places with the contemporary approach of artists such as Gabriele Basilico, Jordi Bernadó, Luca Campigotto, John Davies, Martin Parr, Bernard Plossu and Massimo Vitali.