The last day of peace | 27th July 1914
MAG Riva del Garda, Museo
Until Sunday 19 July 2015
Curated by Quinto Antonelli, Fabio Bartolini, Mauro Grazioli, Alessandro Paris, Mirko Saltori
Opening: saturday 14th March 6 pm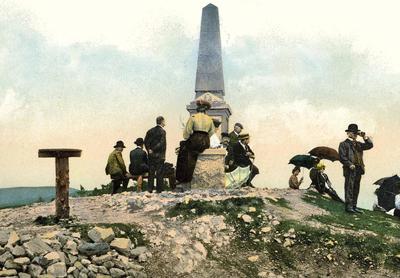 Cima Penegal al Passo della Mendola, 1909, cartolina, collezione Fabio Bartolini
In collaboration with the Società di Studi Trentini di Scienze Storiche and e Consiglio della Provincia autonoma di Trento.
The MAG Museo Alto Garda hosts an exhibition organised by the Società di Studi Trentini di Scienze Storiche, staging this initiative in the centenary year of the outbreak of the Great War, as part of its adhesion to the Trentino Grande Guerra Network, coordinated by the Museo Storico Italiano della Guerra of Rovereto. The exhibition will be visible on the third floor of the Rocca of Riva del Garda, constituting a further temporary enhancement to the already varied history section of the Museum. The study of the political and social life of the communities of the Lower Sarca area along the itinerary is curated by Mauro Grazioli. The exhibition catalogue, available from the MAG bookshop, will also include a special insert dedicated specifically to life in the Lower Sarca area in that period, 100 years ago.
In Trentino, like in most of Europe, the newspapers of July 1914 give no hint of the ultimatum issued by Austria to Serbia, and the upcoming war remains in the background right up to the last moment. The letters sent in the first days of war written by those who found themselves cast into the nightmare of the trenches represent a second major set of exhibits. It is between these "two sets of papers: the newspapers of the last days of peace and the diaries and letters of the first days of war," as explained in the catalogue by the president of the Società di Studi Trentini di Scienze Storiche Marcello Bonazza, that an outright "short circuit of memory" takes place. In fact, "Peacetime Trentino, so real, poor, polemical and politicised, complicated and full of contradictions, is transformed into the Trentino of an ideal peace, the aftermath of which may still be felt to this day in the construction of identity and in the local political debate."
The path from this initial calm before the storm up to the full onset of the wartime tragedy is articulated through a dozen stages, exemplified by objects, photographs, documents and newspaper articles. Key chapters of the social history of the day are thus retraced: emigration, the school system, cultural debate, sports and musical associations, health and hygiene, agriculture, religious life, free time and tourism, not to mention the political debate and Austrian censorship. Thus the weaknesses emerge of a Trentino community which is still very much linked to subsistence agriculture, characterised by seasonal emigration, social disease, but also committed to fighting contrasting political and ideological battles.