Areonatura. The Gaze of Tullio Pericoli on the Upper Garda Landscape
Curated by Claudio Cerritelli
MAG Riva del Garda, Museo
Until Sunday 2 November 2014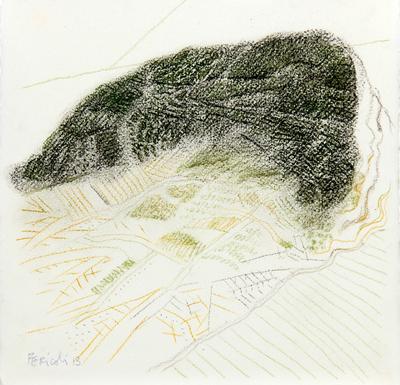 On a late November morning in 2013, on board a sightseeing plane, Tullio Pericoli flew over the Upper Garda territory with the aim of capturing the form that the landscape might provide him from that particular point of view, adopted here for the first time.
During the flight, numerous photographs were taken (both by the artist himself and by the photographer Pierluigi Cattani Faggion) of that area of the Valley of the Lakes which stretches down to the northern shores of Lake Garda.
It was through this personal 'aerial' approach and thanks to the help of the photographic images that Pericoli – over the months to come – created a cycle of works which will be on show at the MAG from this spring through until autumn. The exhibition features some 60 paper-based works of various sizes and media (oil paints, water colours and pencil drawings).
The title of the exhibition, Areonatura, is a neologism coined by the artist to describe his experience of a flight undertaken in order to better understand the form of this very particular landscape. As the curator Claudio Cerritelli points out, «in this original set of drawings and paintings, Pericoli put his capacity to offer an analytical and introspective reading of the Garda landscape to the test, thus providing the onlooker with a host of various morphological elements that make up the identity of the places observed. The face of nature emerges with different intensities of stroke and tone, and through his luminous transparencies, one has the impression of entering into the very soul of the landscape».
With these new visions by Tullio Pericoli, the MAG inaugurates its 2014 exhibition activities and continues along the path of artistic exploration of the Garda landscape, which started with the previous projects on historical and contemporary photography. In this way, along with the purchase of a further group of works, the artistic and cultural heritage of the Museo Alto Garda will be further enriched.

Tullio Pericoli will also present a set of paintings and drawings at the MART, the Museum of Modern and Contemporary Art of Trento and Rovereto. At the start of 2013, the two museums – MAG and MART – set up a major collaboration agreement, resulting in a shared programme of exhibitions and events.
I paesaggi is the title of the project by Tullio Pericoli for the MART, to be held from 9th May to 8th June 2014. The works on show will form a selection of around 50 oil and water paintings from among those published by the Marche-born artist in the book published by Adelphi in 2013, entitled I paesaggi: as the author himself writes, dedicated «…to the light, colours, nature and shapes of my own homeland».
Salvatore Settis defines Pericoli's landscapes as «extremely subjectivised». Here – writes Settis – «distant horizons and seemingly slow motion close-ups draw on the same vocabulary of highly material colours, delicate incisions which cross them like furrows, with symmetries merely hinted at».