Progetto: Wars and Peace | 1918-2018
Kriegsmaler | The Stolz brothers
MAG Riva del Garda, Museo
Until Sunday 28 October 2018
Painters from the Riva del Garda front 1915-1916
Opening: friday 16th March 2018 | 6 pm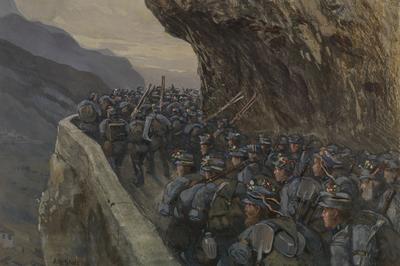 Albert Stolz, Gli Standschuetzen del battglione di Bolzano in marcia per il fronte il 19 maggio 1915, tagliata del Tombio, guazzo, 1916
In collaboration with the Rudolf Stolz Museum, Sesto (BZ)
The section of the MAG dedicated to history is enriched with a series of drawings and paintings from the Museo Rudolf Stolz in Sesto (BZ), created by the painter brothers Albert and Rudolf Stolz in the area of the Austrian Alto Garda front during the First World War.
Between 1915 and 1916, the battalion of the Standschützen of Bolzano was stationed on the front above Riva del Garda under the command of Captain Viktor Perathoner. Two brothers, Albert (Bolzano, 1875 – Bolzano, 1947) and Rudolf Stolz (Bolzano, 1874 – Sesto, 1960), were drafted into the company as war artists, with the task of illustrating a war diary and thus also carrying out an official assignment as correspondents.
From this experience came a cycle of thirty drawings and paintings of great artistic value that document daily life at the front. The sober realism of some scenes clearly shows how both painters spent their lives in close contact with the individuals concerned. As can be seen from the dates near their signatures, the works were not always produced during the events, but realised at a later time on the basis of sketches. Trenches, patrols, the moving of artillery, shooting practice and everyday scenes were first sketched and then completed with precision in watercolour, gouache, pencil or pastel.
In the works of the Stolz brothers, landscape does not appear only as a background or topographic material, but is depicted as a mighty mountain panorama with the different moods linked to the seasons, revealing the encounter between topographic precision and exciting pictorial creation.
The drama of the events is made equally clear, together with the immensity of the landscape that opens from above in all its various features. The threat appears, the danger that does not become clear in grand gestures or monumentality, but which seeks out a concentrated pictorial form.
Project Wars and Peace. 1918-2018