Claudio Verna. Colour as absolute exhibition
MAG Riva del Garda, Museo
Until Sunday 10 June 2018
Inauguration: friday, 6 April 2018 at 6 p.m.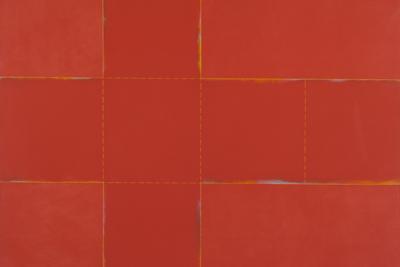 Claudio Verna, A 59, 1971, acrilico su tela, 140 x 180 cm, Mart, Collezione VAF-Stiftung (dettaglio)
In collaboration with Mart, Museo di arte moderna e contemporanea di Trento e Rovereto
Curated by Daniela Ferrari

The Claudio Verna. Colour as absolute exhibition aims to provide a new focus on the theme of painting and colour with regard to the multi-year In Pinacoteca. Windows on the contemporary project, started in 2013 in collaboration with the Mart and curated by Daniela Ferrari, which in the previous seasons has seen monographic shows dedicated to Claudio Olivieri, Aldo Schmid, Luigi Senesi and Italo Bressan.

Born in Guardiagrele, in the province of Chieti, in 1937, Claudio Verna studied first in Umbria and then in Florence. In 1961, he moved to Rome where he still lives and works. His packed exhibitions activity took off in the 1960s.
In 2010, the catalogue raisonné of his work was published, promoted by the Fondazione VAF, whose collection includes an important core of the artist's works, which are conserved at the Mart on a long-term loan. These works enable a complete survey of Verna's approach, which centres around an exploration of the infinite possibilities of colour.

The power of colour is the primary instrument used by Verna to create his works, which take shape without a pre-established plan, as he himself declares, but through the gradual application of the pigments. The painting takes form from an initial strong chromatic imprinting which is slowly transformed through veils of colour that Verna calls marezzature, or "marbling". "The blank canvas", the painter writes, "is the virtual space in which everything is possible, the meeting ground of emotion and rationality. The picture takes on meaning when these components find an unforeseen and unpredictable synthesis".

In the Pinacoteca of the Museo di Riva del Garda, from 7 April to 10 June 2018, the exhibition will present not only the works from the Mart, but also paintings from private collections and from the artist's own collection, which together provide a complete overview of Claudio Verna's pictorial research and also represent the highlights of his artistic development.