Discovering forte Garda
Mountain hike on mount Brione with Blue Garden
Sonntag, 18 August 2019 ore 15:00
+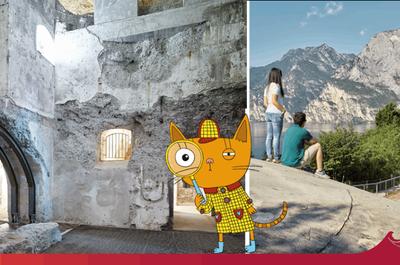 On the 30th June and 18th August from 3pm to 4.30pm the MAG Museo Alto Garda staff are waiting for you at the Blue Garden to let you discover the Alto Garda area with fun games and mountain hikes.
Discovering forte Garda
Mount Brione hides a mix rich in history and nature to be discovered. It is actually a natural reserve as well as a mountain fortress, where several Austro-Hungarian fortifications are hidden among its paths, including forte Garda. The fortress, that came as one building camouflaged on the ground, is a real labyrinth of rooms and aisles to cross.
Meeting point at 2.45 pm. on the first floor Blue Garden Shopping Center Viale Rovereto, Riva del Garda.
Free excursion, suitable for all ages. Trekking shoes are recommended.
T-shirt and ice cream to all participants!