INvento
Children and families
Until Sunday 7 January 2018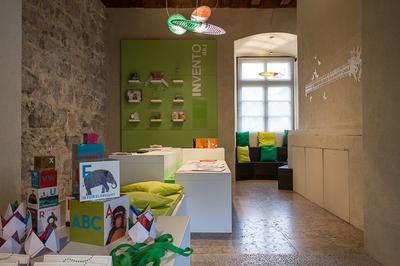 INvento Book_ph Pierluigi Faggion
INvento is a project that the MAG Museo Alto Garda dedicates to its youngest users, and is split into various interactive pathways and spaces, designed especially for the purpose of making a visit to the museum an emotional discovery.


SPACES FOR CHILDREN

Invento Book
age range: 0-99
The book space becomes a place in which to get lost in the evocative pages of some of the best contemporary illustrated books for children.

INvento Lab
age range: 0-99
A work space in which to experience the museum freely, to spend time in the special playing stations, the perfect end to a visit or just the place to create things as part of the programmed activities. The space is animated by a series of events for children, adolescents and adults, during which participants may discover the museum, manipulating materials and making use of the educational games provided.

INvento Relax
age range: 0-99
A space in which to relax, listening to a story or watching animated features.


PERMANENT ITINERARIES

INvento Enigma
age range: 7-12
Duration: 40 m
Picture gallery
A bag containing a special notebook and a number of mysterious objects will guide young visitors through the discovery of works, offering them various enigmas and puzzles to be solved.
Cost: 1 euro

INvento Puzzle
altersempfehlung: 7 bis 12 Jahre
Dauer: 40 min.